Our services cover the full gamut of your project, from Pre-Construction to Post-Construction and beyond. Browse below for more details about each of our services.
PRE-CONSTRUCTION PLANNING
DESIGN BUILD
DESIGN CONSULTING
ENGINEERING
FABRICATION
INSTALLATION
POST-CONSTRUCTION
RESTORATION
PRE-CONSTRUCTION PLANNING
Renfrow provides a full range of pre-construction services before, during, and after the cost estimating phase.
Our team of estimators and value-engineers are well-versed in custom building techniques, and apply this knowledge to every new job that comes across our desks, so that we can create a comprehensive building and maintenance plan that suits the exact needs and schedules of our clients. Our skilled designers can translate even the most custom projects to paper, communicating with the client every step of the way until we can bring your project to life to your exact specifications.










DESIGN-BUILD
Our team of designers is experienced in Design-Build, creating practical works of art that meet the desired design-intent provided by our customers. We provide turnkey solutions to architects and developers that include a full construction budget, engineering, and design.
Having worked closely with clients of all varieties, we pride ourselves in our ability to take the guess-work out of custom-built structures, and provide limitless creative resources and knowledge to help build your vision in a way that is economical, realistic, and beautiful – providing specified systems that are fully coordinated with the architects we work with.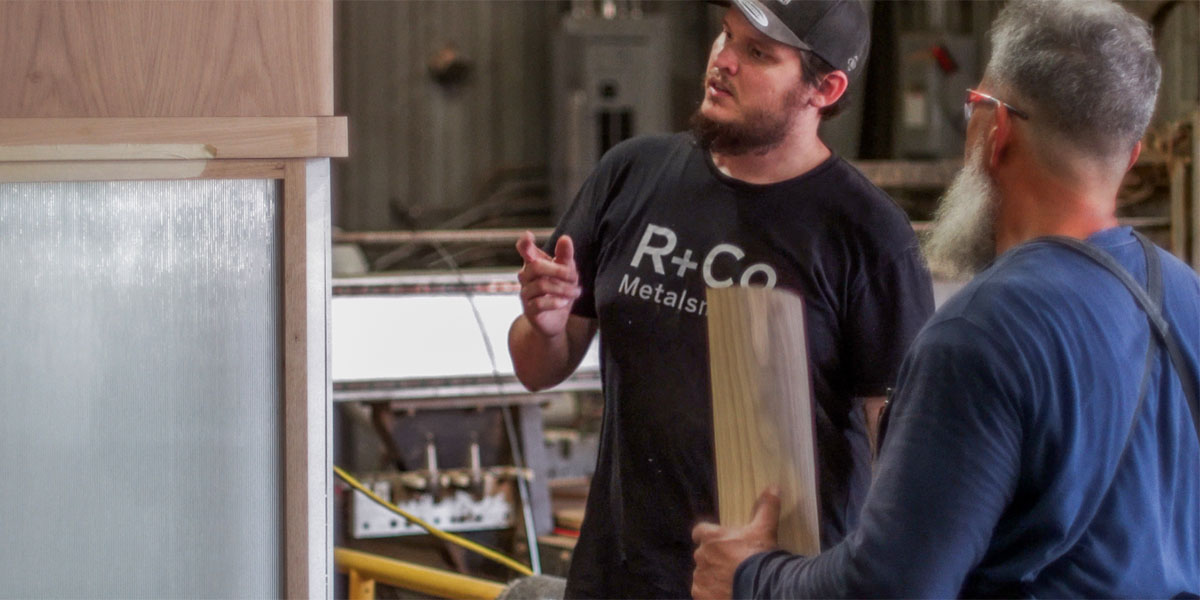 DESIGN CONSULTING
Additionally, we are experienced in working with clients on Design Consulting, where we collaborate with them during their design phase to get ideas regarding materials and constructability.










ENGINEERING
Renfrow works closely with reputable engineers that can provide signed and sealed construction drawings, no matter the application. We provide fully authenticated engineering services, whether that be structural or foundational, for any project. Our engineering services are not limited to our own constructs, either – we also provide engineering services on third-party designs to ensure your project meets all requirements, from start to finish.










FABRICATION
Our fabrication team is the backbone of Renfrow. Skilled craftsmen and artisans with years of experience treat every project with the highest level of care, ensuring that even the smallest jobs are built with only the best quality in mind. Our staff retains certified welders, woodworkers, highly-skilled finishers, and safety professionals that ensure everything that leaves our shop is a work of art. Working closely with our design team, our fabricators have the skills to bring your vision to life.










INSTALLATION
Renfrow has a full roster of installation teams that can tackle even the trickiest field work with ease. Our respectful and communicative crews come fully equipped with trucks and hauling equipment, field generators and welding machines, finishing equipment, and anything else you may need while visiting a jobsite. We are no strangers to the rigorous safety requirements found on many jobsites we visit, and have an array of qualified team leaders who can adhere to all safety training protocols and OSHA requirements set forth by our clients.










POST-CONSTRUCTION
Our support and administrative staff can help you through even the most complicated post-construction processes. We offer fully warrantied work, as-builts, and close-out documentation for every project we complete, and will help you document everything you need to ensure a seamless transition past the point of completion. Our service team is equipped for all major and minor fixes and will help you maintain the beauty and verisimilitude of all builds we provide, so that you never have to worry about our work losing its quality and brilliance.










RESTORATION
A little-known fact about us is that in addition to creating new tangible artistry, we can also restore whatever needs restoring! We've restored old wooden benches and steel structures. If it's something we would normally make in the shop, then it's something we can restore.