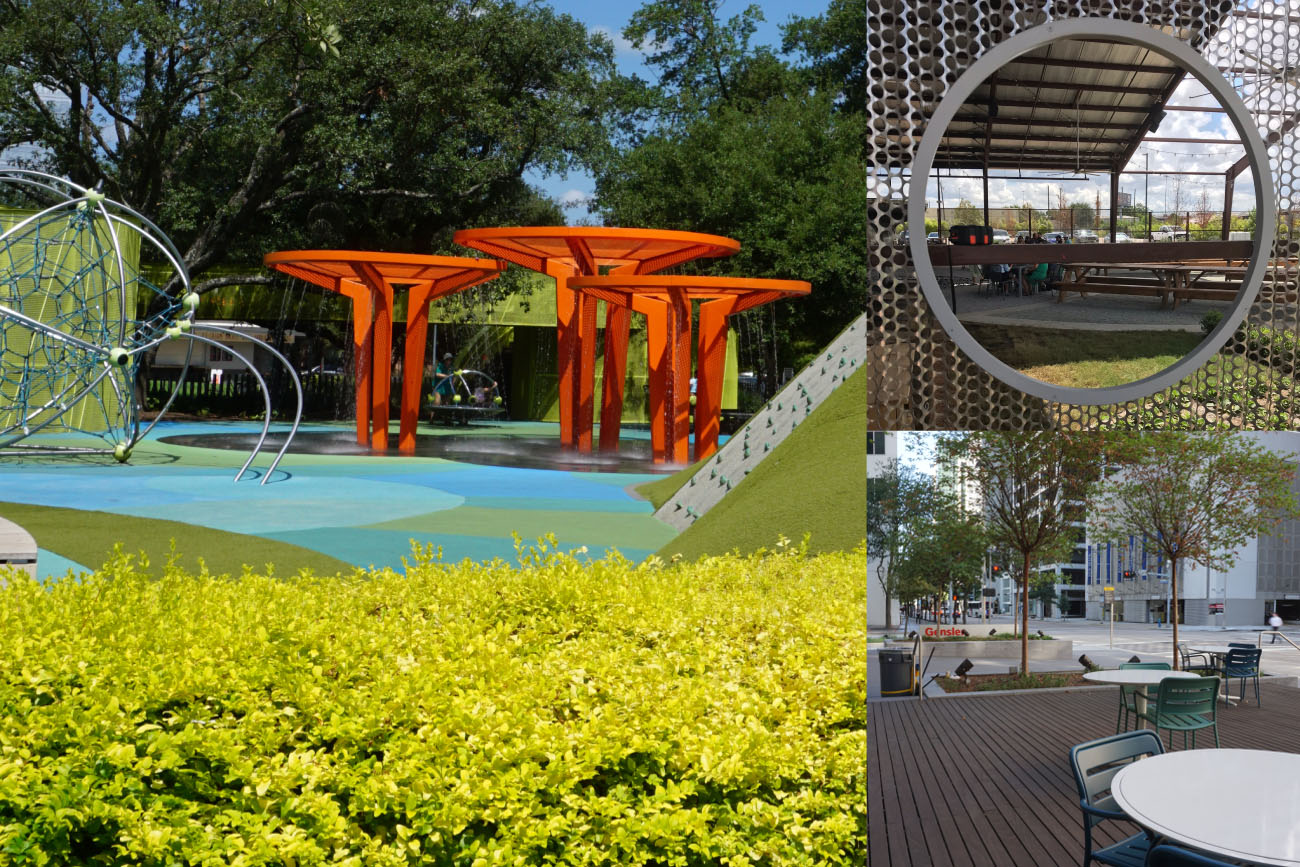 In the middle of a busy urban landscape exists Levy Park Conservancy, a vibrant place where Houstonians go to connect with nature. Renfrow was tasked with translating Levy Park's desire for colorful, yet functional recreational equipment into reality to create a space where people could escape city life. Through meticulously artistic methods and planning, our team executed the fabrication and installation of unique water features, play structures, and more. The end result is a beautiful park filled with one-of-a-kind spaces for families and pets to enjoy for years to come.
Who: Levy Park Conservancy, B&D Landscape Contractors
What: Water Features, Play Structures, Fencing, Seating
Where: Levy Park | Houston, TX
How: Pre-Construction, Fabrication, Installation
Urban spaces often lack the tranquility and peaceful retreats that nature provides. But what doesn't naturally exist deep within cities can often be recreated with a little imagination.
Renfrow assisted in creating shade structures to provide people working in Downtown Houston with a space to commune, relax, and enjoy nature. Many different elements came together to create these shade structures, including metal and wood, with the idea of incorporating natural components into the space. This required great communication and precision to keep a seamless collaboration process with the many different trades needed for this project. Our installation team was the shining star; their attention-to-detail ensured each piece of the project worked together perfectly, providing a tranquil space for Houston employees to enjoy.
Who: D. E. Harvey
What: Pavilions, Seating, Nature Structures, Water Features
Where: Houston Center | Houston, TX
How: Fabrication, Installation
Saint ARNOLD BREWing company

Saint Arnold Brewing Company is a vibrant beer hall and craft brewery where Houstonians eat, drink, and relax. Our team created ornamental fencing and gates to adorn the property made with perforated, corrugated steel. The process of metalworking with a steel that is both perforated and corrugated takes skill and expertise in the production process of this material. The muddy landscape often made it difficult to transport and install such large pieces of fencing, but our team remained committed to getting the job done on time. We are proud of this project and how our team excelled at the opportunity to hone our craft.
Who: Natalie Appel Architects, B&D Landscape Contractors
What: Fencing, Gates, Metalworking
Where: Houston, TX
How: Fabrication, Installation